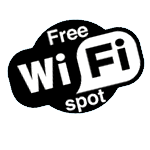 We have always believed in the technology of the Internet and since we had the possibility of years ahead of our competitors we have activated a point free WiFi for our customers.
In addition to being our customers purely tourist in fact many times also host scientists from all over the world. We could not let these users without their "link" with university networks.
Erice is known all over the world is the place touristically most important of the province Trapani, but not the only reason for the fact that this is the home one of the most prestigious scientific facilities in the world: Foundation and Center for Scientific Culture "Ettore Majorana".
Founded in 1963 Prof. Antonio Zichichi, For years our esteemed guest, the "Ettore Majorana Centre for Scientific Culture" hundred and twenty-established post-university schools in all fields of modern scientific research, and also distributes scholarships to deserving students.

For years we are partners in one of the largest networks in the world of free Wi-fi connections or FREE Hotspots !
Bring your own Smartphone, Tablet o Notebook ! Upon arrival ask for the access code and you will be immediately connected with your world !