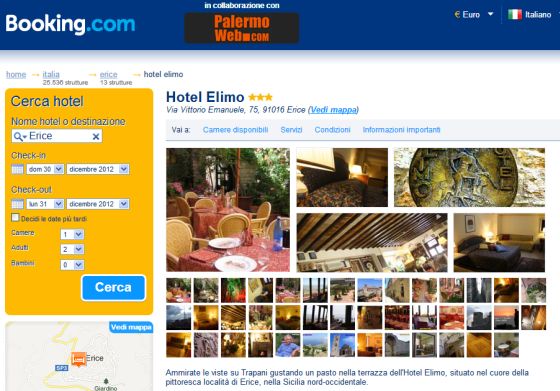 It' Booking.com, the largest hotel reservation portal in the world that can boast millions of daily visitors, the channel preferred by our customers to book their holiday.
Constantly insert offers and promotions in the channel Booking to offer the best quality at the lowest price.
The findings of the comments of our customers are excellent with an average score of 8.2… such as this:
The position: the' hotel is located a few meters from the car park where you must leave the' auto. The staff is very friendly and helpful. Clean. Breakfast on the terrace is lovely and very abundant. I will recommend and book again if we return to Erice there. Cristina and Roberto.
If you can not prenotare tramite Booking because maybe you are finished making available for that period do not despair: Use our online booking service, even easier, reliable and… direct !
It is said that the price is also lower ! Seeing is believing !